April Meeting: Wild Brooklyn: The Natural World in the Big City
Thursday, April 8th, 7:30 pm EDT
What is "nature" for? Recreation? Contemplation? Supporting biodiversity? Cleaning our air and producing our food? The natural world in Brooklyn is both an important register of the climate crisis and an important counter to it. While Brooklyn has many natural spaces shaped by human hands, it also has some uncultivated spaces. Come to our April meeting when we will explore Brooklyn's natural world. If you'd like, bring a story or a picture that tells something about your experiences with nature in Brooklyn. Register to attend using this link.
---
Stop The Williams Pipeline (Again!)
Sign Petition By EOD April 6th
Williams is up to its old tricks. This time it's asking the Federal Energy Regulatory Commission (FERC) to extend their original federal permit by two years to allow them to build the Northeast Supply Enhancement pipeline off our shores. If FERC grants this extension, Williams could alter its proposal and re-submit it to New York State as if it had never been denied in the first place. Outrageous! Sign this petition to tell the FERC Commissioners to deny Williams' request for an extension. We were given a very short window of time to comment–this petition has to be filed today: Tuesday, April 6th. Sign it now!
---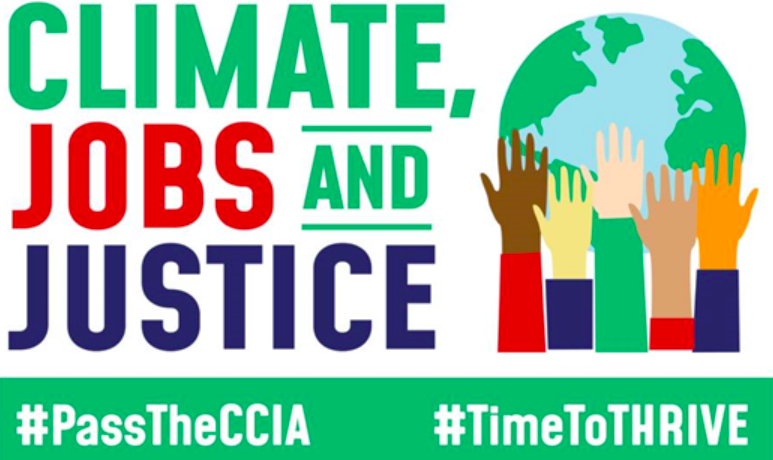 Rally And March For The CCIA!
Wednesday, April 7th, 5:00 pm EDT
On Wednesday, April 7th at 5:00 pm EDT, people from all over the city will gather at the south end of Union Square near the Climate Clock for a short rally and then a march to Washington Square. Bring signs with "350Brooklyn" and "Pass the CCIA" or "Climate, Jobs, and Justice" and/or the name of your Albany representative. See you there! For more information, and to RSVP, click here.
---
Climate Town Hall With Chuck Schumer
Friday, April 9th, 6:30 pm EDT
NY Renews and Indivisible will close out an incredible week of action with a town hall on "Climate, Jobs, and Justice" featuring New York Senator and Senate Majority Leader Chuck Schumer. It should be an illuminating night and one you don't want to miss. Register for the event here.
---
CCIA Introduced In New York State Senate
Good news! The Climate and Community Investment Act (CCIA) has officially been introduced in the New York State Senate as Bill S4264A! We are now one vital step closer to making polluters pay for the damage they have caused in our communities. We thank State Senator Parker for introducing the bill and can't wait for others to sign on. Let's let our legislators know we mean business! Call your reps to co-sponsor the bill, and call New York Senate Majority Leader Andrew Stewart-Cousins and Assembly Speaker Carl Heastie to make sure they get the message too!
---
Defund Line 3 and Stop The Money Pipeline!
Saturday, April 17th
Protest with 350Brooklyn Stop The Money Pipeline on April 17th! On the Saturday before Earth Day, join the NYC Stop The Money Pipeline coalition in a citywide action against the funders of the Line 3 Pipeline. Line 3 is a tar sands pipeline cutting through Indigenous Anishinaabe land running more than 1,000 miles from Alberta to Wisconsin. It would transport an average of 760,000 barrels of tar sands crude oil daily. The funders of this project include BlackRock Investments, Chase Bank, TD Bank, Citibank, Wells Fargo, and TIAA. Join 350BK STMP at a bank branch in Brooklyn, then join the larger rally at BlackRock and Chase headquarters in Manhattan. Email us for more information at stmp@350brooklyn.org. Click on this link to learn more about other ways to support this campaign.
---
Climate Wednesdays: "(Em)powering Our Neighborhoods: Bringing Clean Energy Home"
Wednesday, April 21st, 7:00 pm EDT
Most New Yorkers can't install their own rooftop solar, so community-based renewable energy is an essential climate solution for our city. Who's building these projects, and what policies would help? Where do social justice and energy innovation intersect? Join Summer Sandoval of UPROSE, Carlos Garcia of NYC-Environmental Justice Alliance, Gabriel Jamison of the Brownsville Residents Green Committee, and Max Joel of the New York State Energy Research and Development Authority for a discussion of community-based green energy initiatives that slash pollution and cut energy bills while delivering good green jobs. Register at least one hour before the event to attend on Zoom or livestream on YouTube.
---
PREMIERE: Toxics Tour Video!
Our Toxics Tour last fall highlighted the stories of Red Hook residents and the pollution that they face in their community every day – on top of the emissions from the Gowanus Peaker Plant across the water in Sunset Park. Hear what they have to say and get involved. Sign up for City Action to get updates on Sierra Club's new Gas Ban bill, which was just introduced in the state legislature, or contact us at info@350brooklyn.org.
---
New Instagram Live: Zero-Waste Wednesday
One of our members, Ben Kogan, has created a new weekly Instagram live event that interviews speakers, community organizers, entrepreneurs, and thought leaders living or creating a Zero-Waste lifestyle. The opening show is April 7th at 7:30pm EDT and features Nicole De Santis, the director of Clean Bushwick Initiative–a community advocacy organization focused on sanitation and environmental awareness–and Nicole Grossberg, who runs the Zero Waste NYC Workshop. 350Brooklyn is not a sponsor of this event. To register, click here.
---
Get involved in one of our workgroups!
350Brooklyn is volunteer-powered. At the heart of these efforts are our campaigns and committees. Follow the links below for more information on how to join.
City Action Committee's mission is to make Brooklyn and New York City leaders not only in climate policy but in the long-term actions and engagement needed to make those policies effective. Current campaigns include: The Renewable Rikers Act, Fighting Peaker Plants, Electric School Buses, Department of Sustainability and Climate Change. Use this google form to connect with City Action.
The Climate Idea Exchange works to deepen public understanding of the climate crisis, breaking it down into manageable topics and showing how to take action locally. We work both independently and in collaboration with Brooklyn Public Library, and we're developing a podcast series. email ideaexchange@350brooklyn.org.
350BK Families organizes activities that bring children, youth, and their adults together for the climate. Current projects include pushing for the creation of 529 college savings plans that are free of fossil fuel investments. email families@350brooklyn.org.
Gowanus Neighborhood Coalition for Justice is a diverse coalition focused on equity, inclusion, justice, and economic and environmental sustainability. 350Brooklyn is part of this coalition, which is working to ensure that the rezoning of the Gowanus area honors the needs of all community members. email gowanus@350brooklyn.org.
Legislation focuses on federal and New York State climate legislation. Current campaigns are NY Renews (to pass the Climate Community Investment Act), the Green New Deal, and stopping the repowering of the Gowanus power plant (with 350BK's City Action). email legislation@350brooklyn.org.
The Media Committee is 350Brooklyn's all-around in-house media team. This group writes press releases and promotional copy, creates graphics, keeps tabs on 350BK's social media presence, and runs the new 350BK blog. email media@350brooklyn.org.
Stop the Money Pipeline plans and participates in direct actions that pressure financial institutions to stop funding deforestation and fossil fuel industries. We are part of a national movement targeting New York-based corporations, including Chase Bank and BlackRock Investment Management. email stmp@350brooklyn.org.
Plastic Free works to eliminate plastic pollution and reduce reliance on single-use plastic products. We meet biweekly via Zoom, and work on a variety of projects including legislative lobbying efforts, campaigns promoting going plastic free, and neighborhood efforts to reduce waste. email plastic-free@350brooklyn.org.
No time but able to donate? While we are an affiliate of 350.org, we are programmatically independent and our financial support comes solely from our members. Can you offer financial support, at any level? Donate here.